Well I have been working on the planter for the last two weeks. I have only worked on it here and there when I had a few hours to spend so its not going extremely fast but a lot faster then I thought it would.
So far I have pretty much removed every moving part. I have sanded and painted all the row units. That took a lot of time because I could only do one side at a time on the row units or I would get paint on me. Thankfully I am done painting them now. I have stated putting it all back together now. I have installed the Yetter T adjust closing wheel brackets and I have also installed the accuplant independent gauge wheel are controller. I am going to start sanding and painting the gauge wheels, and start installing the Martin double spiked closing wheels.
I still think I will have ti done by the end of the month, but I have a lot of work left to do. Planting is just around the corner and I need that planter to be in tip top shape!
Here is a few pics of the planter before and after. Click on them to view a larger image.
Current
Old parts and new parts side by side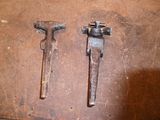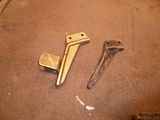 I'm glad I used the mask!
I still have a lot more parts to put on here is one of the piles.
That's about it for the planter. I got a few pic of the fill dirt they brought in for the shed site.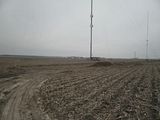 Well that's it for now I will post some more pics next week to show what else I have done. Thanks for reading!